City of Cleveland Ohio
Cleveland
is the second largest city in the U.S. state of Ohio (pop. 500,000) and is the county seat of Cuyahoga County, the most populous county in the state. The city is located in northeastern Ohio on the southern shore of Lake Erie, approximately 60 miles west of the Pennsylvania border. It was founded in 1796 near the mouth of the Cuyahoga River, and became a manufacturing center owing to its location on the lake shore, as well as being connected to numerous canals and railroad lines. Like many of America's older industrial American cities,
Cleveland
withstood declining prosperity and loss of population in the second half of the 20th century. Recent re-investment in the downtown area (new stadiums for its sports teams, the Rock & Roll Hall of Fame, shopping arcades) has revitalized the city.
Cleveland
is home to the Rock and Roll Hall of Fame. Cleveland's economy has diversified sectors that include manufacturing, financial services, healthcare, and biomedical.
Demographics of City of Cleveland:
Population of Cleveland in July 2009: 431,363. Population change since 2000: -9.8%. Males: 204,273 (47.4%). Females: 227,090 (52.6%). Median resident age: 33.0 years. The estimated
Cleveland
median household income in 2009: $24,687 (it was $25,928 in 2000). Estimated per capita income in 2009: $15,583. Estimated median house or condo value in 2009: $84,000 (it was $71,100 in 2000). Mean prices in 2009: All housing units: $98,259; Detached houses: $99,239; Townhouses or other attached units: $97,886; In 2-unit structures: $88,545; In 3-to-4-unit structures: $116,744; In 5-or-more-unit structures: $166,736; Mobile homes: $28,713. Median gross rent in 2009: $605. Visit the
Cleveland Chamber of Commerce
for more information.
As of the 2010 Census, the city proper had a total population of 396,815 and was the 45th largest city in the United States, and the second largest city in Ohio. It is the center of
Greater Cleveland Metropolitan Area
, the largest metropolitan area in Ohio. Cleveland is part of the larger Cleveland-Akron-Elyria Combined Statistical Area, which in 2000 had a population of 2,945,831, and ranked as the country's 14th largest. The Cleveland-Elyria-Mentor Metropolitan Statistical Area in 2000 ranked as the 17th largest in the United States with 2,250,871 people.
History of City of Cleveland:
The Village of Cleaveland was incorporated on December 23, 1814. In spite of the nearby swampy lowlands and harsh winters, its waterfront location proved to be an advantage. The area began rapid growth after the 1832 completion of the Ohio and Erie Canal. This key link between the Ohio River and the Great Lakes connected the city to the Atlantic Ocean via the Erie Canal and later via the St. Lawrence Seaway; and the Gulf of Mexico via the Mississippi River. Growth continued with added railroad links.
Cleveland
incorporated as a city in 1836.
Greater Cleveland has long been famous as a durable goods manufacturing area. Following the national trend, however, Cleveland has been shifting to a more services-based economy.
Greater Cleveland
is a world corporate center for leading national and multinational companies in industries ranging from transportation, insurance, retailing, and utilities, to commercial banking and finance. See photos and watch
videos from Cleveland
here.
City of Cleveland Schools:
The Cleveland Metropolitan School District
envisions 21st Century Schools of Choice where students will be challenged with a rigorous curriculum that considers the individual learning styles, program preferences and academic capabilities of each student, while utilizing the highest quality professional educators, administrators and support staff available.
Finding a Concrete or Home Improvement Contractor
When you plan it out to build your home or your commercial building, then, hiring the best
concrete contractor
or cement contractor or masonry contractor would be the best deal to find a solution. As the contractors would be responsible to providing you the everlasting material and services and the building or homes would be but, hiring a good contractor to perform all those concrete construction jobs is not that simple. Good Cleveland
Concrete companies
and Cleveland masonry company being reputed provide all kinds of contractors that suit you the most. Those companies would charge you more as compared to ordinary contractors, but, it would be for sure you get your money worth and your project would be done in the scheduled time period. There seem to be two kinds of
concrete contractor:
cheap and good contractor. Cheap contractors would lure you and provide lower cost estimate in the beginning. However, good
concrete contractors
would be charging you more and provide the best concrete construction services. The services provided by the cheap contractors would be inadequate and the contractor would hire lower cost labor, being less skilled labor and would do lot of short cuts in his project. These contractors would sum up more estimate as the project gets started and you would sure end up spending too many bucks as compared to the expense of a good contractor.
Video on hiring a Concrete or Home Improvement Contractor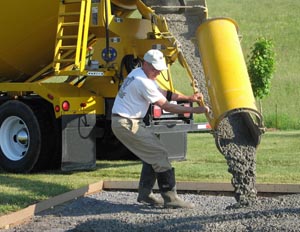 Cleveland Concrete Companies and Construction Contractors
Concrete companies
do provide a wide range of quality concrete construction services for household and commercial purposes. They hire high quality concrete contractors, who are licensed and deliver the best
concrete construction
services. They would make up the whole plan, list the desired materials to be brought, other etc. before actually executing their tasks. It is always good to hire a good
concrete constractor
rather than looking for a cheap concrete constractor, who would probably end up spending your lot of bucks. And concrete building needs services and maintenance, not periodically, but, at somehow, it would tend to require such maintenance. Then,
concrete repair contractor
would be helpful in performing such services. As concrete is a complex material and it is quite hard working services, so, you need a good
concrete repair contractor
to perform all such work. High quality
concrete repair contractor
would use good labor being skilled and also the material recommended and used in the repair work would always be classic.
Cleveland Home Improvement Contractor
And if you wish to renovate or get your home repaired, then, hiring a qualified
home improvement contractor
is essential. But, it is always a uphill task in finding and hiring a
home improvement contractor
who could perform the home improvement services and other repair work. It is always advisable to recruit a licensed and insured
home improvement contractor
, who could execute the repair work efficiently. He should be producing a billing document before you listing all the specifications. Another good way is to ask your friends and relatives and even the clients, who had got their home repaired from the contractors in the past. Their recommendations would surely guarantee that your money, time and efforts would not go in vain. People could also be contacted, who had those
home improvement contractors
services in the past. The performance, time period they take to execute those services, quality of labor they would hire could very well be evaluated.
If you are also confused searching for the best
concrete construction services
, then, contact Clevelandbricksandmortar which are the leading contractors for concrete construction work.
concrete contractor: http://www.concretecontractor.com/
Concrete companies:
http://www.clevelandbricksandmortar.com/driveways.asp
concrete construction:
http://www.clevelandbricksandmortar.com/concrete_and_decorative_patios.asp
concrete repair contractor:
http://www.clevelandbricksandmortar.com
home improvement contractor:
http://www.clevelandbricksandmortar.com/basement_waterproofing.asp
concrete construction services:
http://www.clevelandbricksandmortar.com